How a Positive Drug Test Impacts a Truck Driver
When a trucking accident occurs, its cause can play a big role in what happens next for liability and personal injury claims. In 2018, around 6% of all fatal truck crashes involved the truck driver testing positive for one or more drugs. When a positive drug test comes back, anyone who has been injured in the accident may have cause to file a personal injury lawsuit.
When Drug Tests Are Administered to Truck Drivers
When a trucking accident has occurred but hasn't caused death or bodily injury, the Federal Motor Carrier Safety Administration doesn't require formal drug testing for holders of CDL licenses. However, a drug test could still be administered by any of the police officers who arrive at the scene of the accident. The FMCSA requires post-accident drug testing if:
The accident resulted in one or more fatalities.
A passenger or driver was injured as a result of an error by the truck driver.
One or more of the vehicles in the accident were severely damaged and needed to be towed.
If any of these things happened, the truck driver who was involved in the accident will need to take a drug test within the first 32 hours following the accident. This drug test is a urine-based one. The driver's employer is responsible for obtaining the drug test and adhering to any federal and state drug testing requirements. Drivers who refuse to take an alcohol or drug test following an accident may lose their ability to drive a commercial vehicle in the future.
What Occurs When a Truck Driver Tests Positive
When a truck driver tests positive for drugs after an accident that they are believed to be responsible for, it's common for a personal injury lawsuit to be filed by the victim. However, a positive drug test doesn't mean that the case is open and shut. While a positive drug test can indicate a positive outcome for the plaintiff, it must still be proved that the truck driver was responsible for the accident and any injuries or damages that resulted from it. If another party is believed to be responsible for the accident, it doesn't necessarily matter that the truck driver had drugs in their system.
Along with proving that the truck driver was responsible for the accident, the lawyer who represents you will also be tasked with proving that the drug caused poor driving, which is why the accident occurred. The positive drug test will be used as evidence once a lawsuit is filed or a claim has been made. From here, additional forms of evidence will need to be gathered. The types of evidence that could prove the truck driver was impaired at the time of the accident include:
Drugs found in the driver's possession in the immediate aftermath of the accident
The driver's history of drug-related offenses
Statements made by witnesses and the driver
Descriptions of the driver's behavior in the moments before the accident occurred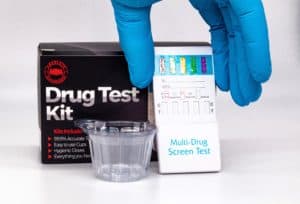 Keep in mind that New Jersey is considered to be a no-fault state. What this means is that the insurance company for each driver will pay for any medical bills that accrue following the accident. The insurance company isn't allowed to take fault into account when assessing how much compensation is due. Because of the higher insurance expenses that occur in no-fault states, the majority of drivers are required to obtain personal injury protection insurance that amounts to $15,000 for every accident.
Even though New Jersey is a no-fault state, it's also one of the few states that provides drivers with the ability to opt out of this system. When doing so, anyone who has been injured in the accident would be able to file a lawsuit against the at-fault driver. In the event that you don't opt out of this option, it's only possible to file a personal injury or wrongful death lawsuit if:
You have lost a body part
Significant scarring or disfigurement has occurred
You have been permanently injured
A death has occurred
You have been affected by a displaced fracture.
Compensation You Can Seek When Drugs Are Involved
If you want to file a lawsuit against the person you believe was responsible for the accident, you should understand how compensation works in New Jersey. Compensation is awarded based on modified comparative negligence laws. These laws state that drivers who are more than 50% at fault for an accident involving two vehicles is not entitled to damages. On the other hand, any driver who is equal to or less than 50% at fault for the accident can collect some damages, but the amount will be reduced by the plaintiff's at-fault percentage.
As an example, if the accident was 30% your fault and 70% the fault of another driver, your compensation would amount to 70% of your total damages. Keep in mind that the statute of limitations for filing a personal injury lawsuit is two years following the date of the accident. The types of compensation you could seek when filing a personal injury lawsuit include:
Loss of current and future earnings
Household expenses
Expenses attributed to altered plans or canceled trips
Current medical bills and costs for future medical care
Mental anguish
Pain and suffering
If a death occurred because of the accident, the personal injury lawsuit would change to a wrongful death claim. These claims are very similar to personal injury claims but carry different damage types. For instance, the compensation you receive when filing a wrongful death claim could involve reimbursement for any burial expenses. This type of lawsuit can involve such damages as:
Loss of companionship
Funeral expenses
Loss of current and future financial contribution
Emotional distress
Pre-death medical bills
Your compensation could include some or all these damages. When it comes to a positive drug test, the results won't necessarily change the types of compensation you receive. However, they can play a part when determining which driver is held responsible for the accident, which is why it's important that you hire a New Jersey trucking accident lawyer who can help you gather the evidence needed to prove fault.
When to Speak With an Experienced New Jersey Trucking Accident Lawyer
As touched upon previously, the most important aspect of filing a personal injury or wrongful death claim is to make sure that you can prove fault. If you hire our trucking accident attorneys, we will focus on helping you build a strong case, which involves conducting a comprehensive investigation into the accident and how it happened.
Once we determine what your ideal legal options are, we'll handle all the paperwork that must be filed before a lawsuit can go forward. Before going to court, many lawsuits are settled, which can only be done after extensive negotiations among all parties. Our attorneys have the experience and knowledge necessary to represent you properly throughout all negotiations. If a truck driver's drug test comes back positive, we'll work towards proving that the drugs played a role in the accident.
If you or a loved one has been injured in a New Jersey truck accident, contact RAM Law today at (732) 394-1549 to learn more about the kind of representation we can provide. We have offices in New Brunswick, Somerville and Freehold.