Why Electronic Logging Devices Are Important in Truck Accident Cases
According to the Insurance Institute for Highway Safety, 4,136 people were killed in trucking accidents in 2018, and many more suffered serious injuries. Because of the risks involved with large truck accidents, the Federal Motor Carrier Safety Administration mandates that all commercial trucks have electronic logging devices installed. Because these devices record lots of detailed information, they are often crucial for determining what happened in truck accident cases. If you are involved in an accident with a truck, our team of New Jersey truck accident attorneys will use these data for your case.
What Is an Electronic Logging Device?
An electronic logging device (ELD) is a system that's installed in a commercial truck to record various important types of information, such as operation time, speed of travel, and more. In 2015, the FMCSA passed the ELD mandate, which is a regulation that calls for all large trucks to have ELDs installed. While this trucking law was somewhat controversial within the trucking industry, all trucks are now required to have these devices installed. Before this regulation, some trucks had electronic control modules or event data recorders that functioned similarly to the black box of an airplane. Not all trucks had ECMs or EDRs installed, but many include EDRs integrated into their engines by truck manufacturers to defend against warranty claims.
EDRs, ECMs, and ELDs all collect and store data about what happens to a truck in the moments leading up to an accident. Many large trucking companies also use trip recorders or satellite trackers to monitor their fleets. Getting the data from all of these devices can be critical for helping to prove your truck accident claim.
What Types of Helpful Information Is Stored by ELDs and EDRs?
ELDs can provide a wealth of information about the truck, its speed, and the driver's hours of service. ELDs and EDRs can also show what happened within the truck and its engine in the moments leading up to an accident. Some of the types of helpful information that might be recorded by an ELD, ECM, or EDR includes the following:
The speed of the truck in the moments leading up to the accident

Whether a sudden acceleration or deceleration occurred

When and whether the brakes were applied

The daily or monthly activity of the truck

The number of hours the driver worked during the day

Whether the driver had cruise control engaged

How often the driver drove the truck above a speed limit

Whether the driver was using a seatbelt

Tire pressure

The number of times hard braking occurred and the RPM between the stops

Airbag deployment

GPS location data

Emails and communications between the driver and the dispatcher

These types of information can help to prove the liability of the truck driver, the trucking carrier, and other third parties. This makes preserving the data from ELDs, ECMs, and EDRs critical for proving your truck accident claim.
Why It's Important to Act Quickly to Preserve ELD and EDR Data and Call One of Our New Jersey Truck Accident Attorneys
The EDRs in truck engines typically record data for 30 days. After that, the information will be recorded over. Older trucks with EDRs might record over data in much shorter periods. ELD data is either automatically submitted electronically back to the trucking carrier or transferred by the driver using a secure USB device.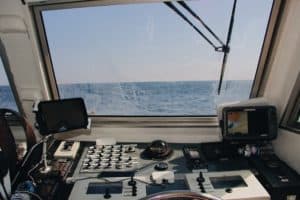 When a truck accident occurs, some companies might intentionally destroy the information from EDRs or ELDs. Most trucking carriers will not voluntarily turn over this type of data to accident victims. Contacting an experienced truck accident lawyer as soon as possible after your accident is crucial. An attorney who understands the trucking law can send a spoliation letter to the trucking carrier to alert them of your claim. The letter will also direct the company to preserve the evidence from the ELD, EDR, or ECM.
Truck accident lawyers often work with experienced third parties who can be present when the electronic data is downloaded from the ELD, EDR, or ECM. This can help to prevent intentional or inadvertent downloading issues that may result in the spoliation of the evidence. Alternatively, your attorney might negotiate an agreement with the company about when, how, and where the download will occur. If the company refuses to provide this information to your attorney, your lawyer will need to file a civil complaint and a motion to preserve the evidence to prevent the company from destroying the ELD and EDR data. If the company destroys the evidence from the ELD or EDR, your attorney can ask the court to allow the jury to view the company's destruction to mean that the information contained in the device would likely show the liability of the truck driver.
How Can ELD or EDR Data Help You to Obtain Fair Compensation?
The data that is contained in an ELD, EDR, or ECM can provide you with substantial information about the driver and the contributing factors that caused the accident. For example, an ELD may have data that demonstrates the truck driver was fatigued, had violated the hours of service rules, or was speeding. The EDR can also provide data that demonstrates malfunctioning parts and whether the brakes were applied before the point of impact.
Before the FMCSA mandated the installation and use of ELDs in all commercial trucks, truck drivers could use paper logbooks to record when they took breaks and when they drove. However, paper logbooks were fairly easy to alter after a crash. ELD data has a much higher degree of accuracy and cannot be changed by the driver.
Your attorney can also examine the data from an ELD and compare it to what the driver claims to have happened. This makes it valuable for cross-examination and verifying what the truck driver says. For example, a driver might claim that he or she stopped for a break. Your lawyer could look at the ELD data to determine whether or not the driver was truthful. ELD, EDR, and ECM data can help to make your claim stronger and make it easier to negotiate a fair settlement. Having more evidence is generally more helpful to the plaintiff in a truck accident case.
Get Help From a Team of New Jersey Truck Accident Attorneys
If you have suffered serious injuries in a truck accident that was caused by the driver or another party, your first concern should be to get medical attention. Once you are able, consider getting legal help as soon as possible. Truck accident cases often involve complicated legal issues and aggressive insurance companies.
The experienced attorneys at Rebenack, Aronow, and Mascolo represent truck accident victims across New Jersey and have a thorough understanding of the federal and state regulations and laws that apply. We have offices in New Brunswick and Somerville. To contact our New Brunswick location, you can call us at (732) 247-3600 or stop by our office at 111 Livingston Avenue New Brunswick, NJ 08901. To contact our Somerville office, you can call us at (908) 448-2560 or stop by our office at the following address, 21 North Bridge Street Somerville, NJ 08876. You can also request a free consultation at either office by emailing us at contact@ram.law. We're ready to help you with your case, so contact us today.