Truckers Follow Covid-19 Guidelines, But Lack Access to Resources and Have More Trucking Logistical Challenges
When New Jersey and other states enacted restrictions on commerce to reduce the spread of Covid-19, life on the road got more challenging for commercial truck drivers. While much of the general public is experiencing a phenomenon known as Covid-19 prevention fatigue, the trucking industry has stepped up its focus on preventing the spread of the virus, which has infected more than 10 million Americans. Nevertheless, some truckers struggle to follow pandemic safety protocols due to trucking logistical challenges that are largely out of their control.
Cleaning Crews Are Leery of Facilities That Serve Truck Drivers
Regular access to bathroom facilities for hand washing and showering are critical to helping truck drivers avoid contracting and spreading Covid-19. While many truckers expected the reopening of retail businesses would make more bathroom facilities available to them on the road, some drivers are reporting the opposite. At certain locations, drivers have been refused access to bathroom facilities when making deliveries or stops along their routes. Some businesses have explained that they're unable to find cleaning staff who are willing to service their restroom facilities if the business grants access to truckers. Drivers who are unable to wash their hands and shower are forced to travel longer distances without following CDC-recommended Covid-19 hygiene practices.
Relaxed Hours of Service May Contribute to Driver Fatigue
In April, the Federal Motor Carrier Safety Administration extended its Emergency Declaration that allows truck drivers to follow service hour guidelines less strictly. Specifically, the declaration no longer required drivers to take 30-minute breaks and follow the regular 34-hour restart guideline while providing emergency service. Drivers who operate their trucks for longer periods than usual are more likely to be fatigued. Insufficient sleep can hinder the body's natural ability to avoid contracting viruses. Although the emergency extension calls for drivers to receive a minimum of 10 hours off duty after completing the emergency delivery, general fatigue may cause the driver to be more susceptible to contracting Covid-19 while in the line of duty.
Extended Hours Pose More of a Risk Than Pandemic Fatigue
While compliance with newly-implemented Covid-19 prevention policies requires additional time and effort from drivers, the relaxation of scheduling protocols poses a greater risk to other drivers on the road. Situations that require a driver to complete his or her delivery before taking an otherwise mandated rest break often lead to drowsy driving. Drowsy truck drivers are more likely to have difficulty maintaining their lanes, may experience a delayed reaction to road hazards, and also fall asleep while driving. The CDC estimates fatigued driving causes 6,000 fatal accidents on the roads each year. Someone who has been involved in an accident caused by a fatigued trucker may contact a trucking accident lawyer to file a claim against the trucking company.
Relaxed Scheduling Contribute to Pandemic Fatigue By Increasing Stress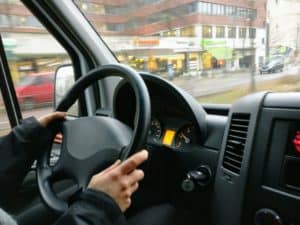 While often overlooked, job stress can hurt a trucker's overall health and contribute to accidents. Stress undermines the immune system, which makes the body more susceptible to contracting viruses. Drivers who are under heightened stress are more inclined to be distracted while driving. They are also more likely to drive faster to meet critical deadlines and make unsafe decisions. A driver who feels pressured to take on tasks that exceed his or her typical workload is more likely to forget important Covid-19 prevention measures like hand washing, sanitizing equipment, or even searching for a testing facility if he or she isn't feeling well.
Buddy System Could Reduce Covid-19 Prevention Fatigue and Trucking Logistical Challenges
With so many obstacles to following CDC guidelines, one might assume most truck drivers are experiencing Covid-19 prevention fatigue. In other words, they are getting tired of following the necessary guidelines. However, the industry has remained one step ahead by implementing practices to keep drivers motivated and accountable. Truckers for a Cause is currently working on implementing a nationwide buddy system through which drivers will call twice each day to check on each other. The group expects the system will be a low-cost, simple approach that can be replicated by trucking companies everywhere. The system is not limited to allowing drivers to have someone check in with them every day. If a trucker becomes ill, the buddy system will allow the sick trucker to self-isolate more easily and have someone else dispatch assistance and notify his or her employer in a more timely manner.
Providing Testing at Truck Stops Encourages Truckers to Know Their Status
For people who are constantly on the move, finding a testing site after potential exposure may easily become less of a priority if there are no signs of illness. The trucking industry has made it easier for some truckers to get tested and know their status by implementing testing sites into regular truck stops. Inconvenience is one of the major factors that contribute to Covid-19 prevention fatigue. Creating more opportunities to get tested will be very helpful to drivers who are on tight schedules. The goal is to require less effort on behalf of those who may be experiencing fatigue. Those who get tested earlier and get positive results will be able to reduce the spread by quarantining sooner.
Supply Distribution Improves Compliance and Trucking Logistical Challenges
Not only is it important for drivers to wear a mask over the mouth and nose to curb the spread of Covid-19, but regularly cleaning a reusable mask or change disposable masks is also imperative. Covid-19 prevention fatigue may lead a truck driver to forget or become lax in always using a fresh or recently-cleaned mask. The FMCSA hosted mask distribution events at select border crossings and dozens of other locations around the U.S. to provide drivers with free masks. In addition, trucking companies have been increasingly supplying their drivers with hand sanitizer, gloves, paper towels, toilet paper, and other supplies that will help them stay clean and safe should they encounter supply shortages while on the road.
Although the trucking industry has made great strides toward preventing truckers from experiencing Covid-19 prevention fatigue, physical fatigue and logistical barriers to accessing essential facilities are more imminent threats. Fortunately, there are measures employers can take to help truck drivers and other workers remain safe. By regularly checking in on drivers, keeping them informed about facilities that are available along their routes, and making protective equipment and testing sites as plentiful as possible, the trucking industry can encourage drivers to follow proper CDC protocols as they perform their duties. While relaxed protocols can make it tempting for employers to allow their drivers to spend extended amounts of time behind the wheel, trucking companies should remind their drivers to take regular breaks and maintain healthy eating habits. This will help them keep energy up and strengthen the immune system. Drivers who can remain alert and healthy while on the job also make the roads safer for other vehicles.
If you've been injured in a drowsy driving accident with a commercial truck, call our trucking accident lawyers to receive a free case evaluation. You may be entitled to compensation for your medical expenses and time away from work. Contact our offices in New Brunswick or Somerville at (732) 394-1549. We'll help you file a claim and defend your rights against commercial trucking companies and their insurance providers.