September Roadcheck Blitz Leads to 15,000 OOS Violations
The CVSA conducted its annual international—Canada, Mexico, and the United States—roadcheck blitz September 9-11, 2020. Many trucking accident attorneys and other industry experts applaud this effort for its ability to target OOS violations that go less noticed during standard procedures. The number of infringements found in 2020 during the blitz is about a 25% increase over the number identified during the 2019 campaign.
What Are Driver Out-of-Service Violations?
Driver out-of-service violations—often called OOS violations—are commercial trucking rule infringements that require that the driver in violation and/or his or her commercial motor vehicle be put out of service immediately. In other words, drivers in violation are no longer legally able to operate their commercial vehicles for a period of time, which is established based on the specific violation or series of violations. This order also requires that the violation be corrected, which may require the driver or CMV to be out of service even longer than required by the defined period. Not all infractions require OOS orders. Some infractions require just a warning or citation for a first-time offense. Others require a CDL ticket or other penalty but do not require that the driver be put out of service. Multiple offenses can also require OOS orders for infractions that would not otherwise be OOS violations.
Penalties for Being Put Out of Service
Once ordered, OOS status applies for at least a 10-hour period. During this period, the driver can neither operate the CMV involved in the infraction nor any other commercial vehicle. The CMV may be given OOS status as well, which means that it cannot be operated for commercial purposes. Once the period is up, the driver and vehicle may be back in service as soon as the violation is corrected. OOS violations often carry with them civil penalties up to $2,500 for first-time infractions and up to $5,000 for subsequent infractions. If the driver is an employee, penalties can apply to the employer as well. All commercial trucking violations also carry with them point values that are placed on the CDL license and, if applicable, the employer record. Points remain for a period of at least five years. If a driver or company accumulates too many points during a given time frame, an audit is triggered. Audits can result in loss of license temporarily or permanently, monetary penalties, and even jail time in severe cases.
Commercial Vehicle Safety Alliance
In the United States, commercial trucking violations and penalties are set forth by the Federal Motor Carrier Safety Administration, which is an agency of the U.S. Department of Transportation. The Commercial Vehicle Safety Alliance is a non-profit association and a joint effort between Canada, Mexico, and the United States. The responsibilities of the CVSA include certifying CMV inspectors and providing guidance to the various organizations, including law enforcement, that perform CMV inspections. Both Canada and Mexico have their own FMCSA equivalents and commercial trucking laws. The CVSA takes these differences into account when establishing guidelines for inspectors in the various regions.
Annual International Roadcheck Inspection Blitz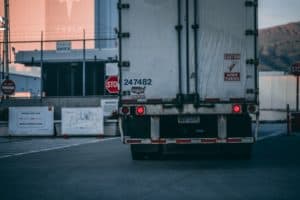 The annual international roadcheck inspection blitz is the most ambitious enforcement effort that the CVSA coordinates. The first blitz was hosted in 1988, and it has been held every year since. In 1991, the alliance included Mexico alongside Canada and the United States. Blitzes take place during a 72-hour period. They take place in all three countries during the same periods—adjusting for time zones—and are carried out by CVSA-licensed CMV inspectors. Blitzes are generally carried out in spring or early summer, but due to the challenges of the COVID-19 pandemic, the 2020 blitz was delayed until September. Blitzes are different than other inspection periods and regular inspections in that they emphasize a particular category of OOS violations. The industry is alerted to the category prior to the blitz, and the category can be chosen due to new laws or because the number of OOS violations in a particular group suggests that it may be going unnoticed during regular inspections.
The 2020 Roadcheck Blitz
As mentioned, each annual blitz has a focus on a specific area of violations. For 2020, that focus was on driver requirements rather than the vehicles themselves. This category was chosen due to the stress and other challenges the COVID-19 pandemic has presented to commercial drivers throughout 2020. Numbers for these violations were lower than those inspected throughout the year. Also, the CVSA intends to use what they learn from the emphasis in order to improve their driver requirement inspection guidelines. This focus on driver requirements led to more than:
700 moving violations
450 incidents of falsifying logs
1,100 hours-of-service violations
680 wrong class license infractions
140 cases of driving with a suspended licenses
An important note is that while there is a point of emphasis for the blitz, a comprehensive inspection is conducted for each driver and CMV stopped during a roadcheck. Interestingly, the top five OOS violations encountered during the blitz had nothing to do with the focus. These included more than:
2,300 tire-related violations
3,100 brake system violations
1,500 issues with cargo securement
1,500 cases of improper brake adjustment
1,650 instances of missing or malfunctioning lights
Challenges for Cross-Border Drivers
Trucking accounts for the majority of the trade that occurs between Canada, Mexico, and the United States. A significant portion of commercial trucking operators are cross-border drivers. These drivers face additional challenges because the laws—including temporary COVID-19-related restrictions—differ between the three countries. Mexico, for instance, does not have seasonal weight limits, but Canada and the United States do, and a Mexican cross-border driver has to be aware of and in accordance with these rules. This is often a secondary focal point for CVSA-licensed inspectors in the regions where these differences are most relevant.
OOS Violations Throughout a Given Year
The percentage of OOS violations in a particular group can differ from the percentages for the year as a whole. During this 2020 blitz, for instance, the rate of drivers flagged for using their cell phones while operating their vehicles was much higher than the norm. Overall, however, the 2020 blitz numbers reflected violations in 2019. Violations were quite high this year. Some attribute this increase to the pandemic. Nevertheless, these numbers exceed 2019, which was considered very high as well, and that blitz was conducted during June well before the pandemic was affecting the U.S. trucking industry.
Local Legal Representation in New Jersey
Have you or a loved one been injured in a commercial trucking accident? Commercial truckers are integral to the American way of life. During the COVID-19 pandemic, these essential workers have been heroes risking their own health to get medical supplies to hospitals and necessities to local groceries. But mistakes do happen—particularly during this time of great stress—as is evident through the steep increase in OOS violations during the 2020 roadcheck blitz. The law firm of Rebenack Aronow & Mascolo is here to help, and one of our trucking accident attorneys can evaluate your case. Contact RAM Law online or reach our New Brunswick or Somerville offices by calling us at (732) 394-1549.