From No-Fault to Unlimited Right to Sue: A Client's Primer
New Jersey is one of 16 states that has no-fault insurance in the event of an accident. Each driver's personal injury protection, or PIP, will cover losses from medical bills, lost wages, or both. However, there are certain situations where such insurance does not apply.
First Steps After Being Hurt
It is perfectly normal to feel apprehensive about working with a personal injury lawyer. In popular culture, these professionals have a pretty rough reputation. "Ambulance chasing" jokes are regular fodder for comedians, and stereotypical depictions of "sleazy sharks" on television and in the movies don't help. However, most attorneys practice only the highest form of ethics.
At Rebenack Aronow & Mascolo, L.L.P., ethical behavior is our watchword. If you need to partner with a truck accident lawyer, you can speak to us with complete confidence in our honesty and integrity. Moreover, we'll do all we can to safeguard your dignity and to act as your advocate throughout every step of your case.
What Is No-Fault Insurance?
No-fault insurance is a kind of contract that stipulates that all people in an accident, no matter what happened, are covered under their own policies. As stated, that coverage in New Jersey usually consists of personal injury protection. While PIP covers medical bills and lost wages, it does not allow an injured party to file a lawsuit against the other driver. This is true even if the other driver would be 100% at fault in a shared-fault jurisdiction.
In some cases, however, injured parties have a "limited right to sue." Those cases involve a certain set of criteria where filing a suit against another driver is allowed. Those criteria are usually serious injuries or death. An example would be if you were driving and a loved one riding as a passenger were to be killed by a truck driver's negligence.
Other than someone's death, the cases where a limited right to sue applies include the following:
Loss of a body part

Significant disfigurement

Worse than usual scarring

A fracture where the bones are out of alignment

Losing a pregnancy

A permanent injury

A permanent injury is one where the function of a part of the body is irretrievably lost even if the limb isn't lost outright or in need of amputation. This is commonly the basis for a truck accident injury lawsuit.
What Is Comparative Fault?
If your case presents you with a limited right to file a suit, then the concept of comparative fault applies. That's where a jury determines how much each party to an accident is at fault. For example, let's say you signaled for a turn, but your light was burned out. Some motorist then runs a red light and smashes into you. The jury determines that there is $250,000 worth of applicable damages. However, the jury also decides that, because you didn't replace your turn light, you were 15% at fault. That means that, instead of $250,000, you would receive $212,500.
New Jersey's version of comparative insurance is "modified." That means that you receive nothing at all if you are judged to be more than 50% at fault for any accident in which you are involved.
Basic PIP and Your Options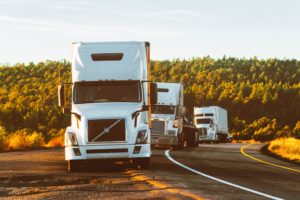 The bare minimum coverage allowed under the statute gives accident victims $5,000 worth of property damage coverage. This is used to cover damages against someone else's property when you are at fault in a case where comparative fault applies. Additionally, the minimum PIP is just $15,000. While a minimum policy sets you right legally, many truck accidents cause much more damage than that.
You have the option to purchase higher coverage for your PIP. Also, you have to choose whether or not you want an "unlimited right to sue" rider on your policy. Such a rider is quite a bit more expensive than the basic plan, which includes the aforementioned limited right to file suit.
If you purchase the unlimited rider, you are allowed to file a lawsuit against another driver, or drivers, in an accident. This will be true no matter how serious the injuries or your percentage of fault.
In any case where a lawsuit is to be filed, you have two years to file regardless of the circumstances of the case.
How a Lawyer Can Help
First of all, most lawyers provide free initial consultations. Rebenack Aronow & Mascolo, L.L.P. is in that group. During your consultation, we'll discuss the various aspects of your case and explain your prospects for success in any litigation you may intend to file. You can expect to get our best efforts on your behalf.
To determine the facts of your truck accident case, we may bring in trusted partners, such as doctors, accident investigators, and the like. Don't worry. Even if one of our investigators goes to the wreck site or assists the police in their own inquiries, that's not "ambulance chasing." We're allowed to do that, so both your faith in us and your need to retain dignity are fulfilled.
During a highly stressful time when you might not be physically or mentally able to perform the various tasks that need to be completed during a personal injury case, a lawyer can act on your behalf by negotiating with your insurance company, the insurance company of the other party, opposing counsel, and all other parties with an interest in the case. If your accident was with a truck, a truck accident lawyer with the right practice training and focus can help you with the special laws regarding fault when it comes to commercial vehicles.
Settle or Go to Court?
In many cases, choosing whether to settle or go to court is, quite literally, the million-dollar question. Without knowing the particulars of your case, it is impossible to make such a recommendation. To make such a recommendation without the proper information would be unethical. We would need to know everything there is to know before making any such momentous recommendation.
Previous Case Results
Going to court presents a more lucrative opportunity for the plaintiff. Of course, there's always the chance that a case could be lost in court. Most cases are settled, but that doesn't mean that the compensation is minor. An attorney can fight on behalf of a client and negotiate for the maximum possible settlement. At RAM Law, some of our successes include the following:
More than $8 million in an auto accident case

More than $1.3 million in a negligence case resulting in a slip and fall

More than $1.5 million in a rear-end collision case

More than $1 million in a settlement regarding a truck crash

The Final Word
If you need to speak to a lawyer about injuries you or a loved one sustained in a truck crash, even if those injuries resulted in the death of a loved one, then Rebenack Aronow & Mascolo, L.L.P. stands ready to help you. We always aim to be empathetic to do what is in our clients' best interests. You have a few options to contact us to schedule an appointment and protect your rights. You can email us, chat with us on the website, or call either our New Brunswick office at (732) 247-3600 or our Somerville office at (908) 448-2560.