Commercial Truck Accidents and Distribution of Liability Claims
The Insurance Institute for Highway Safety reports that around 10% of all highway accidents involve a large commercial truck. Although these types of crashes represent a small percentage of the total number of accidents occurring every year, they tend to cause more damage to other vehicles and drivers. That's why trucking companies usually work hard to deflect liability when their drivers are involved in crashes.
Identifying Key Players in Truck Accidents
Many fleet companies hire legal firms to help them dodge responsibility. This is a serious issue because the trucking company's insurance carrier is often the main provider of compensation for injured people. There are often multiple departments that carry insurance for a single commercial truck. This also means that internal fighting is likely to occur between these different players following a truck accident. These internal struggles can frustrate victims who feel like each party is trying to avoid responsibility, and that's exactly true. It's also why the services of a truck accident lawyer are necessary for the crash victim.
The web of liability can involve the following parties:
Trucking company

Leasing company

Manufacturers and distributors

Owner-operators

Independent contractor drivers

Employee drivers

Driver Fatigue, Company Control
Driver fatigue is often a major contributor to fatal accidents on America's highways. Trucking companies have refined a system of deflecting responsibility for the operation and maintenance of the truck. They often exploit a series of loopholes in order to say they are not legally responsible for the damage caused by drivers pressured to work past the normal hours of service limit. This is a major problem in the trucking industry because drivers have almost no control over their work schedules.
For example, drivers are often forced to wait for hours or even days for a single load, yet they are pressured to make a deadline that can only be fulfilled if they work beyond the 11-hour daily limit. In addition, these routine and often unnecessary delays at the docks can force drivers to work during the early morning hours when accidents are most likely to happen.
Truck Accident Statistics
According to the Federal Motor Carrier Safety Administration, commercial trucks account for just 3% of the accidents reported annually; however, these collisions tend to be more serious than accidents involving other kinds of vehicles.
Just take one look at a big rig, and you'll see the potential for a catastrophic accident. It's no wonder that so many passenger vehicle drivers feel uncomfortable sharing the highway with tractor-trailers. The ratio of speed, size and weight compared to passenger cars leaves commercial truckers little room for error. Any mistakes or unlucky combination of events will contribute to an accident likely to leave any survivors in a state of impairment or disability. This is why truck drivers and transport companies are forced to comply with so many federal regulations.
Braking Problems Compound Risks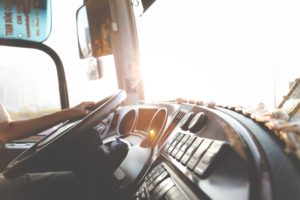 Brake problems account for a major portion of accidents with commercial trucks. The braking system must be properly maintained. This type of liability affects the trucking company and brake manufacturer more than the driver. There are exceptions, and every situation must be investigated and weighed on the individual circumstances.
For example, trucks are equipped with an engine brake that allows the vehicle to slow down without overheating the drum brakes. A truck driver could be found liable for a crash if the drum brakes were used improperly on a steep grade. In many cases, this can cause the driver to lose control over the vehicle.
Driver Liability and Safe Following Distances
Maintaining a safe following distance is the responsibility of the driver. Commercial trucks need around 500 feet to come to a complete stop while traveling at a typical highway speed of around 60 mph. That takes around seven seconds, and the first two seconds are only used in perceiving a situation that requires an immediate reaction. Most cars require around 300 feet to come to a complete stop under similar conditions. Few drivers maintain this safe following distance during heavy traffic, but this is also a problem in rural roads where there are fewer vehicles on the road. The habit of driving aggressively instead of defensively can add liability to the driver. Anyone with a CDL has the responsibility to drive safely at all times and under all conditions.
Transport Companies Routinely Deflect Liability
Transport companies often seek to deflect their liability in truck-related crashes. Since the victim and their family must seek redress through legal action for compensation, a company may try to get around the legal definitions by redefining its role in the operations. For example, companies often try to claim that they don't have responsibility for the maintenance of the truck because they are leasing the equipment from another company. Similarly, they may try to claim that they only hire drivers as independent contractors and that these drivers are not employees. Of course, companies are capable of exercising complete control over driver work hours and conditions, and they often create hazardous situations while putting drivers under extreme pressure to violate hours-of-service rules.
In many cases, multiple parties could share liability for a trucking accident. Some examples of liable parties include the following:
A vehicle manufacturer might be liable for an accident if its parts are found to be defective and contributed to a collision.

Road conditions often contribute to accidents. Sometimes, construction or road maintenance companies can be liable for these conditions. Under some circumstances, local government agencies can also be held responsible for improperly maintained roads.

The passenger vehicle driver could be held responsible for contributing to an accident. Many drivers will tailgate or cut in front of a commercial vehicle before slamming on their brakes. This behavior is reckless, and it can make the automobile driver responsible for causing the accident.

Additional Liability Considerations
Determining liability and a potential compensation award takes time. It is beneficial to contact a qualified truck accident lawyer as soon as possible after the collision occurs. Most accidents involving a commercial truck will cite the trucking company as the major liable party. There are certain legal conventions that make the trucking company liable for what the driver does. This includes the responsibility of the company to properly train drivers and ensure that hours of service and other federal regulations are being observed.
Truck Accident Law Firm in New Jersey
At Rebenack Aronow & Mascolo, L.L.P., we believe that understanding the victim's position is critical to building a convincing case that could win in court. Our committed lawyers will take care of all the paperwork so that you can focus on recovering. We can file court documents and compile evidence to present at the right time. Our firm has a proven track record of obtaining millions of dollars in compensation for clients. Furthermore, our team of experienced attorneys is available to offer free consultations. New clients can contact us in New Brunswick at (732) 247-3600 or in Somerville at (908) 448-2560. We're prepared to fight for your rights and help you obtain a fair settlement.