How Judges Determine When to Revoke a Commercial Driver's License
Each year, as many as 500 commercial truck drivers have their licenses revoked. This leads to serious, immediate consequences, including a loss of their job and income. According to the Federal Motor Carrier Safety Administration, commercial drivers with a revoked license may have to wait as long as 10 years to qualify to earn this type of license again. If you are a driver faced with this situation, be sure to call a truck accident lawyer who is experienced with this highway law.
Everyone Relies on the Work of Truck Drivers
Every person who consumes food, buys clothing and needs household products, furnishings, lumber or anything else relies on the work of truck drivers. They drive the big rigs morning, noon and night in order to get things to where they need to be. Most commercial truck drivers follow every letter of the guidance set by the regulating agency, which is the Federal Motor Carrier Safety Administration. However, some truckers and trucking companies flout the law. When this happens, and a trucker is charged with a traffic or other violation, judges don't have a lot of leeway for the sentencing of the criminal activity.
Size of the Trucking Industry
Every year, the nation's estimated 3.5 million truck drivers log more than 300 billion miles on American roads. More than 30,000 companies specialize in these freight services. There are even more companies that don't do trucking as their primary source of income, but they have their own fleet for moving their products from warehouses to storefronts or distribution centers. The vast size and complexity of the transportation industry make it tough to regulate.
Trucking Safety Issues and the Need for a Truck Accident Lawyer
Truck drivers are often pressured to work long hours or make illegal adjustments to their logs. Drivers who are fatigued are as likely to get into an accident as drivers who are drunk. Accidents involving commercial trucks increased by 41% between 2017 and 2019.
How Safety Issues Are Handled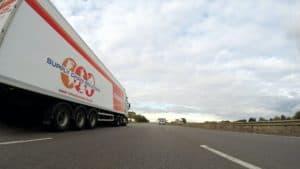 The Federal Motor Carrier Safety Administration is trying to fix this by issuing millions of dollars in grants every year. The grants are for the education of judges. The judges are the people who preside over the trials of truck drivers accused of violating the laws for commercial drivers. These funds are dispersed at the local level so that county and state judges can learn about when a commercial driver's license must be revoked versus the situations in which the judge has leeway for administering punishment.
What the Law Says and When to Rely on a Truck Accident Lawyer
The weight and speed of a commercial truck make it a big risk if the driver is tired or driving recklessly. The federal laws around truck drivers involve stiff penalties for reckless driving, speeding, following too closely, working too long, texting while driving, not maintaining the vehicle or improperly transporting hazardous materials. There are minimum mandatory penalties. Some involve a revocation for one year; others involve a three-year revocation. A serious infraction, such as causing a fatal accident, could lead to a 10-year disqualification and revocation of a commercial driver's license.
Making Highways Safer: A Truck Accident Lawyer Can Defend a Trucker
Some judges aren't aware of when a commercial driver's license must be revoked under the law. The lack of awareness could lead to unsafe drivers traveling all over the United States with fully loaded trucks weighing tens of thousands of pounds. Such drivers are a risk for causing fatal accidents, significant bodily injuries and property damage. One local educational institution in Reno, NV, received a $2 million grant. The National Judicial College is using the money to teach judges about the proper sentences for CDL holders who are in violation of the law. The educational programs include up-to-date details about toxicology, alcohol and drug detection screening, state-of-the-art ignition interlock systems and appropriate sentencing guidelines.
At RAM Law, our attorneys assist commercial truck drivers who are facing revocation of their commercial driver's license. To learn more or schedule a consultation with our attorneys in New Brunswick or Somerville, call us at (732) 394-1549, or complete our online email contact form today.