Maintenance Required to Ensure Safe Tractor Trailers
The Federal Motor Carrier Safety Administration tracks data on commercial trucking in the United States. It has found that poor truck maintenance is a significant cause of commercial truck accidents and that well-maintained tractor trailers are far less likely to be involved in an accident. These sobering statistics have led many trucking accident lawyers and others in the industry to urge the government to expand the tractor trailer maintenance that is legally required.
Preventive Maintenance
Preventive maintenance is essential to keeping any vehicle in good working order. The requirements are even higher for tractor trailers—also known as semitrucks and 18-wheelers—because they have both a tractor and trailer unit. Many of the subsystems are more complex than those in passenger vehicles, and big rigs in the U.S. average more than 90,000 miles a year.
What maintenance is required and when depends. There is the maintenance recommended by the manufacturer, which may be obligatory if the vehicle is financed or leased. If the truck is a member of a fleet, then there will be maintenance required by the fleet management company. Truck owners must also maintain their trucks in accordance with the rules set forth by the FMCSA and the various transportations agencies in the states in which the vehicle operates. Some of the most common maintenance steps include
Oil change
Fluids level check and top-off
Brake inspection and service
Electrical inspection and cleaning
Tire inspection and axle alignment
Preventive Maintenance Scheduling
The list above is a simplification of what is usually required. Commercial truck maintenance checklists often comprise hundreds of items. Some of these items must be carried out prior to each and every use of the vehicle. There is also maintenance that is performed seasonally, such as winterization, and most services are conducted based on distance milestones. The average oil change interval for a tractor trailer, for instance, is 25,000 miles.
Since many of these items are on different schedules and mechanics must account for both the tractor unit and trailer unit, most fleets use a schedule category system. PM schedules are lettered. PM A refers to a safety inspection and maintenance checkout, which is performed every 5,000 to 10,000 miles. PM B includes oil changes, filter changes and engine diagnostics and is scheduled every 10,000 to 20,000 miles. PM C encompasses the annual DOT inspection along with axle alignment and replacement of parts that wear on a predictable basis. PM D includes seasonal maintenance, such as summarization, upgrades and any major replacement or rebuild.
TA or T1 occurs quarterly and involves basic inspection of the trailer. TB or T2 occurs biannually and involves upkeep, such as reapplying grease and retorquing lug nuts. TC or T3 occurs once a year and involves an extensive inspection followed by any extensive maintenance required, such as a brake overhaul or axle realignment.
FMCSA Record Keeping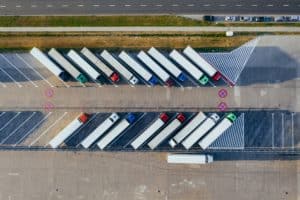 The FMCSA establishes the minimum requirements—what and when—for commercial truck maintenance, and individual states can expand these requirements. Many fleet management companies have maintenance protocols that go well beyond the legal requirements of any state. They do this because it eliminates the concern of which trucks can be used where but also because they are protecting their investments rather than just ensuring a safe vehicle.
The FMCSA and state agencies also dictate what must be logged and when. Most logging is completed using an electronic logging device, but maintenance is one trucking domain that is still done manually as opposed to automatically by an ELD. Each time maintenance is performed, a form must be completed. While it is becoming more common to complete and store these forms electronically, paper maintenance documents are still prevalent, and many semitrucks have built-in document holders. Such documents must detail each and every maintenance task carried out during that particular service along with the
Vehicle identification number
Vehicle make, model and year
Carrier information if applicable
Fleet number if applicable
Tire size and fill
Pre-Trip Inspection
One of the first things that students attending a commercial driving school learn is the pre-trip inspection. A driver has to be able to identify a safe vehicle before he or she can drive it. Pre-trip inspections are required prior to going on duty. The FMCSA has hours of service regulations that allow a driver to drive up to 11 hours during a 14-hour period after which they must go off duty for at least 10 hours. Pre-trip inspections are invaluable to identifying unexpected maintenance requirements. If a driver identifies an issue, he or she must have the vehicle serviced prior to operating it. Failure to do so is a serious violation and can result in fines, CDL points, loss of license and even jail time for repeat offenders.
Annual DOT Inspections
The FMCSA requires that all commercial trucks with a gross vehicle weight rating of at least 10,001 pounds be inspected annually by a DOT inspector. The DOT official not only inspects the vehicle itself but requires all maintenance documentation in order to ensure that the required maintenance was performed in the allowed time period.
Note that an annual DOT inspection is not necessarily the same thing as a state vehicle inspection. The FMCSA currently lists 23 U.S. states plus the District of Columbia as being compatible with the FMCSA standard. It has also approved 10 Canadian provinces in addition to any Mexican state inspection that adheres to the NOM 68 program. NOM stands for "Norma Oficial Mexicana," which translates to "Official Mexican Standard."
Weigh Station Inspections
In the U.S., commercial truckers are required to stop at every active weigh station. Cursory inspections will occur at each stop. However, a DOT inspector may flag a tractor trailer over for a more extensive inspection. This is similar to the annual DOT inspection, and the driver is required to present all maintenance documentation. While the DOT inspector can make this call based on a potential issue that he or she spots, these impromptu inspections are generally flagged by the FCSMA system. It ensures that all vehicles are inspected within a particular period but also that individual drivers are not unfairly burdened.
Roadside Inspections
Another type of impromptu inspection that commercial drivers have to be prepared for is the roadside inspection. These are generally conducted by state police and highway patrol and usually occur because an officer has spotted a potential issue. In some cases, these organizations coordinate inspection blitzes, which are generally announced in advance. Note that law enforcement will conduct inspections based on the requirements of their state, and those may exceed the FMCSA requirements.
The Local Representation You Need in New Jersey
Commercial truck drivers are essential to the American way of life, and most professional drivers and fleet companies take their maintenance responsibilities very seriously. Oversights do happen, however, and when they do, these mistakes can lead to serious injuries and even fatalities.
If you or a loved one has been involved in an accident with a commercial truck that may have been improperly maintained, the law firm of Rebenack, Aronow and Mascolo would like to help. You can have your case reviewed by one of our trucking accident lawyers at no cost to you and without obligation. To set up that review, contact RAM Law online, or reach our New Brunswick or Somerville offices at (732) 394-1549.